28 April 2013 in osx · view history
When I need to test a form while developing, I was really bored and too lazy to think of some text to fill in any text input. Things like dasdsa or sajklhdas are too messy, and even though I have LittleIpsum installed it still takes too many clicks and mouse dragging. There must be a better way. I thought about using a timestamp.
So I found this post. Easy handmade service could do the job. Here's how to set it up.
Launch Automator.app, add new Service.
Search for Run Shell Script and fill in date "+%Y-%m-%d %T", I'm using /bin/zsh by the way.
At the upper Service receives section, select no input and any application, also check Output replaces selected text.
Save the service, I named it Insert Timestamp.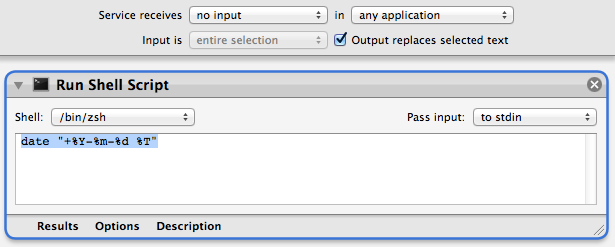 Now go to System Preferences and Keyboard, in the Keyboard Shortcuts tab you will find your newly created service within the Text dropdown. Check to activate it and assign a keyboard shortcut. I use cmd + ctrl + shift + D for my setup.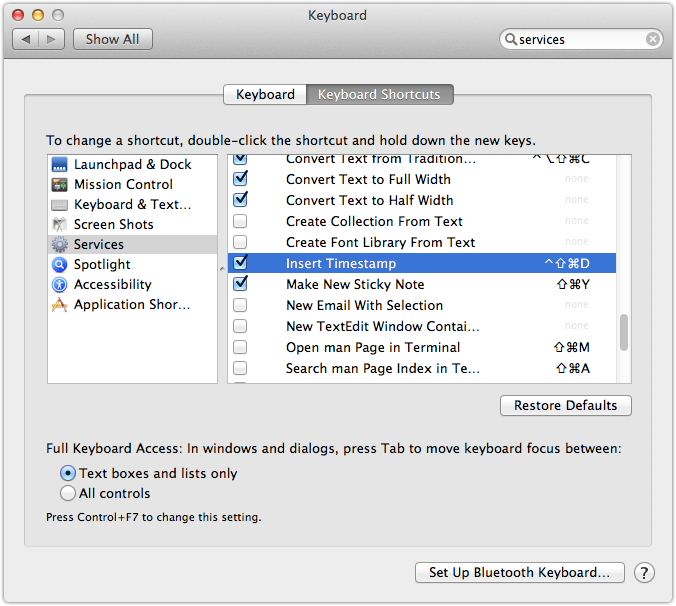 And that's it! Let's enjoy this little handy trick ;)